The Climate Prediction Center is forecasting La Niña conditions to persist for the second consecutive Northern Hemisphere winter season. "La Niña refers to the periodic cooling of sea-surface temperatures across the central and eastern equatorial Pacific. It represents the cold phase of the ENSO cycle, and is sometimes referred to as a Pacific cold episode" 1.
"La Niña, and its warm phase counterpart El Niño, are naturally occurring phenomena that result from interactions between the ocean surface and the atmosphere over the tropical Pacific. Changes in the ocean surface temperatures affect tropical rainfall patterns and atmospheric winds over the Pacific ocean, which in turn impact the ocean temperatures and currents. The El Niño and La Niña related patterns of tropical rainfall cause changes in the weather patterns around the globe". Therefore, even though these changes occur over the Pacific Ocean, they can have an impact on the weather here locally - in the Florida Panhandle, southeast Alabama, and southwest Georgia.
NOAA Winter Outlook
The annual NOAA Winter Outlook for winter 2011-2012 was released on October 20th, and here is a brief summary of the information. For the full article from the NOAA website, you can click here.
"The evolving La Niña will shape this winter," said Mike Halpert, deputy director of NOAA's Climate Prediction Center. "There is a wild card, though. The erratic Arctic Oscillation can generate strong shifts in the climate patterns that could overwhelm or amplify La Niña's typical impacts."
The Arctic Oscillation is always present and fluctuates between positive and negative phases. The negative phase of the Arctic Oscillation pushes cold air into the U.S. from Canada. The Arctic Oscillation went strongly negative at times the last two winters, causing outbreaks of cold and snowy conditions in the U.S. such as the "Snowmaggedon" storm of 2009. Strong Arctic Oscillation episodes typically last a few weeks and are difficult to predict more than one to two weeks in advance.
Here is some more information on the Arctic Oscillation from the National Snow and Ice Data Center. For Florida and the south Atlantic Coast, the Outlook calls for:
Drier than average, with an equal chance for above-, near-, or below-normal temperatures. Above normal wildfire conditions.
This forecast is very similar to what we have seen in recent La Niña winters.
Local Impacts From La Niña
As we just mentioned, La Niña can impact the global circulation pattern, and thereby the weather patterns that affect our local area. Below are departures from normal temperatures and precipitation for December through March for the last eight La Niñas (or basically all La Niñas since 1981). Normal values were calculated on the period 1981-2010. We calculated the departures from normal at three locations: the Tallahassee airport, which is a climate site, and two cooperative observer sites in Geneva, Alabama, and Albany, Georgia.
Temperature Departures From Normal

Location
December
January
February
March
Tallahassee Airport (TLH)
+0.2

-0.4
+1.7

+0.4

Geneva, Alabama (COOP)
-0.2

-0.8

+1.1

-0.3

Albany, Georgia (COOP)
-0.1

-0.5

+1.6

-0.3

Other than in February, when temperatures have tended to warm up, there is a poor correlation between La Niña conditions and wintertime temperatures across the area. This is likely because temperatures will be strongly modulated by other influences and teleconnection indices such as the "North Atlantic Oscillation" (NAO) and the "Arctic Oscillation" (AO). These indices are not very predictable beyond several weeks, but can have a large influence on temperatures in the eastern United States. The last several winters, we have seen negative values of both the NAO and AO persist for long periods of time, and therefore some of the winter months saw below normal temperatures across our area. Therefore, it is difficult to say what the temperatures will be like this winter in our area.
Precipitation Departures From Normal

Location
Dec-Mar Total
December
January
February
March
Tallahassee Airport (TLH)
-6.27

-1.70

-1.38

-2.03

-1.15

Geneva, Alabama (COOP)
-2.64

-0.59

-0.76

-1.14

-0.15

Albany, Georgia (COOP)
-2.91

-1.19

-1.19

-0.49

-0.04

In contrast to temperature, there is a strong correlation between La Niña conditions and precipitation in Alabama, Georgia, and north Florida. All three of the locations listed above showed that conditions were much drier during the December to March period in a La Niña winter. Of the eight La Niña events that we examined, 100% saw drier-than-normal conditions in Tallahassee, with 88% in Albany, and 75% in Geneva. In other words, during La Niña winters, there is a strong likelihood for below normal precipitation across southeast Alabama, southwest Georgia, and the Florida Panhandle.
Drought Conditions Across The Area
The entire NWS Tallahassee area of responsibility was still under drought conditions as of mid-October. In fact, the Tallahassee Airport has recorded ten consecutive months of below normal precipitation from December 2010 through September 2011. Below on the left is a map of drought conditions across the United States from the Drought.gov website. You can click on the image for a larger version, and this image will update as new drought maps become available.
On the right is a climate graph for the Tallahassee Airport for 2011 through October 19th. The bottom part of the graph shows the running rainfall total, and the brown section shows the increasing rainfall deficit through mid-October. Drought conditions have not appreciably improved as we have moved into autumn months.
With a good chance of the area experiencing below-normal precipitation this winter, the drought conditions also stand a good chance of persisting through the winter months and into the early half of 2012.
Climate Prediction Center ENSO / La Niña Graphics
Here are box-and-whisker plots of 3-month temperature and precipitation for December, January and February for the climate division that covers SE Alabama, SW Georgia, and the Florida Panhandle. You can compare the distributions of temperature and precipitation for ENSO Neutral, La Niña, or El Niño conditions. Overall, the mean winter (Dec-Feb) temperatures during a La Niña tend to be slightly warmer, but there is a wide variation. The mean winter (Dec-Feb) precipitation tends to be significantly lower than normal during a La Niña.
Here are maps of U.S. composite temperature and precipitation anomalies for the last eight La Niña events, or basically all La Niñas since 1981. The composite anomalies for temperature are on the left, and for precipitation on the right. While there has not been a strong signal for temperature in the Southeast, there is a very strong signal related to drier-than-normal conditions.
Next is a series of maps related to the number of days a season (between November and March) when the daily precipitation exceeds 0.50 inches. The bottom two maps show the deviations in the numbers from neutral years to La Niña or El Niño. During La Niña winters, there tend to be at least 4 fewer days with at least 0.50 inch precipitation total across the NWS Tallahassee area.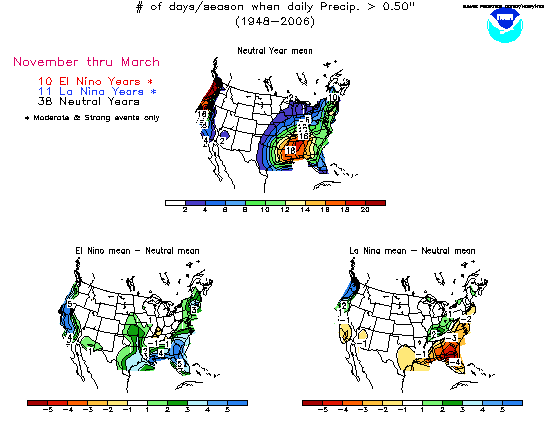 For additional information on La Niña, or ENSO, visit the Climate Prediction Center webpage or the NOAA La Niña Information Page.
Reference Information
Header image from NOAA Public Affairs.
1 "ENSO FAQ." Climate Prediction Center. Web. 19 Oct. 2011. <http://www.cpc.ncep.noaa.gov/products/analysis_monitoring/ensostuff/ensofaq.shtml>.
Return to News Archive