Useful Links
National Hurricane Center
NOAA Hurricane Page
Hazard & Preparedness Info
Marine Hurricane Manual
NOAA Hurricane Brochures
USGS Storm Impact Studies
Other Hurricane Links

Forecast Models

GFS, NAM & RAP

ECMWF

GFDL, CMC, NOGAPS

WAVEWATCH III

About NHC Models

2016 Storm Names
Atlantic Storm Names
Alex
Bonnie
Colin
Danielle
Earl
Fiona
Gaston
Hermine
Ian
Julia
Karl
Lisa
Matthew
Nicole
Otto
Paula
Richard
Shary
Tobias
Virginie
Walter
Other Years
Past Storms and Items of Local Interest
2016 Atlantic Basin Hurricane Season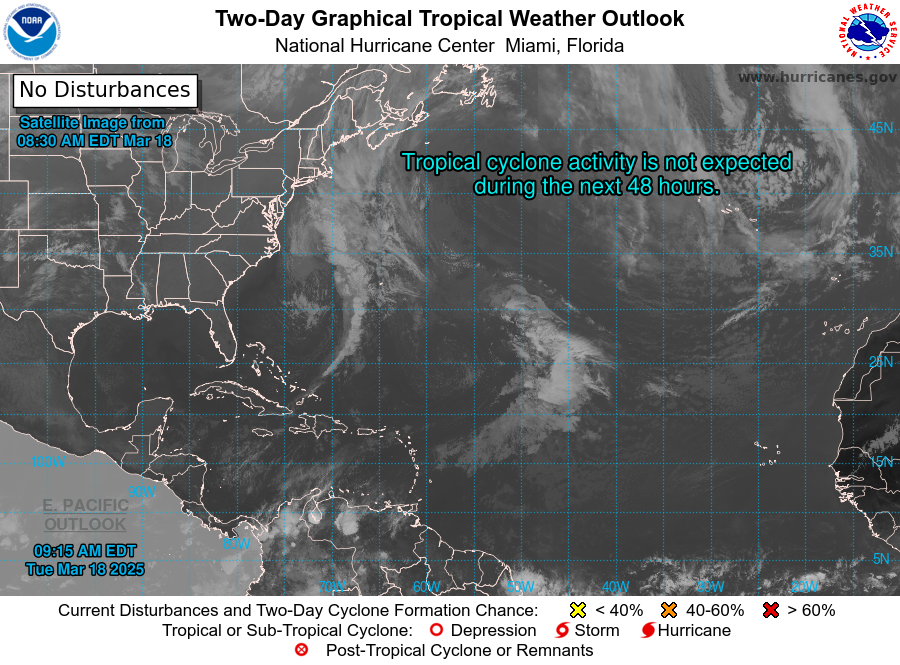 Click on the image above to jump to the Graphical Tropical Weather Outlook of the Atlantic Basin, including the Gulf of Mexico, that is produced by the National Hurricane Center.


This page is produced by the National Weather Service Office in South Florida. Below you will find current storm information for tropical weather activity in the Atlantic Basin, including the Gulf of Mexico.

Additional tropical storm information and activity is also available from the National Hurricane Center.
---
Atlantic Basin Storms
---
Daily Products

Tropical Outlook | Graphical Version

Tropical Discussion
Local Storm Reports
South Florida Area Forecast Discussion
Current Caribbean Observations
Recon Plans and Data
---
Tropical Weather Summaries

Monthly Atlantic Tropical Weather Summary
2015 Seasonal Summary
2014 Seasonal Summary
2013 Seasonal Summary
2012 Seasonal Summary
2011 Seasonal Summary
---
| | |
| --- | --- |
| Atlantic Tracking Chart | Gulf of Mexico Tracking Map |
---
This service does not constitute an official source of NWS information and the information provided here may become unavailable at any time. This information shall not be modified in content and then presented as offical government material. A reference from a NWS web server to any non-government entity, product, service or information does not constitute an endorsement or recommendation.
Saffir-Simpson
Hurricane Wind Scale
Category
Winds
(mph)
Depression
<39
Tropical Storm
39-73
Hurricane Cat. 1
74-95
Hurricane Cat. 2
96-110
Hurricane Cat. 3
111-129
Hurricane Cat. 4
130-156
Hurricane Cat. 5
> 156
Effects and Damage Estimates.
Satellite Imagery
SSD Satellite Images

Latest Visible Channel


Latest Infrared Channel


Latest Water Vapor Channel