Important DefinitionsWarning: conditions expected within 36 hours.
Watch: conditions possible within 48 hours.
Video Weather Briefingsno current version
Coastal NWS Weather Offices now produce a suite of graphics that serves to complement the corresponding Hurricane Local Statement (HLS) text product. They are hosted on an NWS web site and provide an internet-based decision-support service consisting of at least four graphics: high wind impacts, coastal flooding impacts, inland flooding impacts, and tornado impacts. For the Atlantic/Gulf Hurricane Season, the graphics will be generated and posted by the 23 coastal NWS Offices whenever Tropical Cyclone Watches and/or Warnings are in effect for their area.
The Interactive Hurricane Local Statement for NWS Jacksonville is an interactive Text Reader for the segmented Hurricane Local Statement (HLS) text product. By segmenting the HLS product into corresponding geographic areas of concern, it is designed to make it easier to extract the desired local information. This page has a suite of BLANK graphic backgrounds in 5 tabs that depict Wind, Coastal Flood, Inland Flood Tornadoes and Marine areas overlaid with the segmented HLS Text product. These tabs are active whenever tropical cyclone watches/warnings are in effect locally, and refreshed with each issuance of the HLS by your local forecast office.
Hurricane Threats and Impacts: The purpose of Hurricane Threats and Impacts (HTI) is to facilitate the proportionate implementation of your emergency action plan based on descriptions of potential impact unique to your area. The intent is to invoke a measured response that is reasonable and responsible by considering the composite of plausible outcomes in context of the event at hand. These HTI images are designed to complement the Interactive HLS and provide a graphical .png image, KML or google map overview of the potential impacts for threat assessment. The assessment scheme takes into account the forecast magnitude of the hazard, along with the associated uncertainty of the forecast. They provide an "at-a-glance" summary of potential impacts that have the reasonable chance to occur.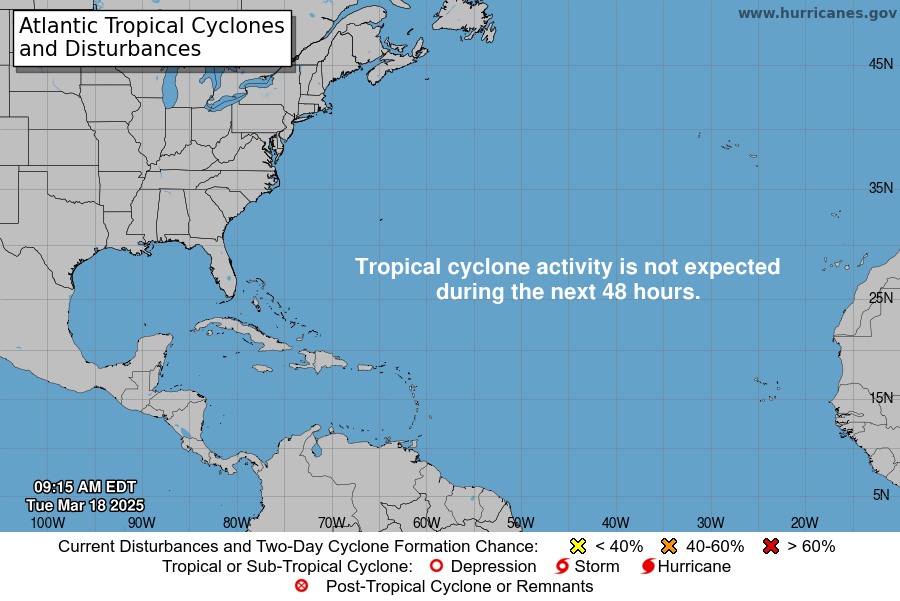 National Hurricane Center Graphics
No advisories found

Tropical Products
Local Area Products
Tropical Statements
Local Tropical Statement: Text • RSS
Post-Storm Report: Text • RSS
Local Storm Reports: Text • RSS
Local Tide Information
NHC Forecast Tracks, Public & Marine Advisories, Discussions, & Wind Speed Probabilities
By Product Number:


Saffir-Simpson Scale
Category
Winds
(mph)
TD
< 39
TS
39-73
1
74-95
2
96-110
3
111-130
4
131-155
5
155 >

NHC Forecast Error
Forecast
Hour
Average Error
NM
Miles
12
36
41
24
59
68
36
79
91
48
98
113
72
144
166
96
190
219
120
239
275

Tropical Satellite Loop Sectors
MORE
Region
Source
Infra-red
Visible
Water Vapor
Wide View
NASA
♦
♦
♦
NW Africa
EUMETSAT
♦
♦
♦
E North Atlantic
EUMETSAT
♦
♦
♦
S North Atlantic
NASA
♦
♦
♦
Middle North Atlantic
NASA
♦
♦
♦
W North Atlantic
NASA
♦
♦
♦
Gulf of Mexico
NASA
♦
♦
♦
E Caribbean
NASA
♦
♦
♦
W Caribbean
NASA
♦
♦
♦

Tropical Radar Imagery
TOP
N Caribbean
San Juan, PR • Bahamas
Pico San Juan, Cuba • Key West, FL
US Atlantic Coast
Miami, FL • Melbourne, FL • Jacksonville, FL
Charleston, SC • Wilmington, NC
Newport/Morehead, NC • Wakefield, VA
US Gulf of Mexico Coast
Tampa, FL • Tallahassee, FL • Mobile, AL
New Orleans/Baton Rouge, LA • Lake Charles, LA
Houston/Galveston, TX • Brownsville, TX

Monthly Tropical Cyclone Probability Maps
INFO
Type
Jun
Jul
Aug
Sep
Oct
Nov
Annual
Named storms
♦
♦
♦
♦
♦
♦
♦
Hurricanes
♦
♦
♦
♦
♦
♦
♦
Major Hurricanes
NA
NA
♦
♦
♦
NA
♦

Questions or comments about the Jacksonville tropical program? Email Scott Cordero & Al Sandrik

Want to schedule a hurricane talk for your group? Email Scott Cordero, Meteorologist-in-Charge

Want information about Pacific storms? Visit the National Hurricane Center webpage

Tropical Activity
INFO
Hurricane season runs from June 1st-November 30th. Be sure to check our site for the latest tropical info.

2016 Storm Names
INFO
Alex
Bonnie
Colin
Danielle
Earl
Fiona
Gaston
Hermine
Igor
Julia
Karl

Lisa
Matthew
Nicole
Otto
Paula
Richard
Shary
Tomas
Virginie
Walter

Other years