Winter 2012-2013 Outlook
Without El Niño or La Niña conditions, the drought across North and Central Texas is expected to persist well into 2013. While this pattern is expected to bring warmer than normal temperatures during the winter, it doesn't mean the region will be free of cold outbreaks. In fact, severe arctic outbreaks are more common with the absence of an El Niño or La Niña.
Is the drought intensifying?

For much of the region, the winter of 2011-2012 was among the wettest on record. While that temporarily eased drought conditions, precipitation deficits have been steadily growing again since early April. October and November were very dry, resulting in a rapid intensification of the drought. (Click on Image for larger view.)


U.S. Drought Monitor - http://droughtmonitor.unl.edu

What are the current precipitation deficits?

Much of the region saw no measurable rainfall during the month of November. When coupled with a very dry October, the 8-month precipitation deficits (April 1st - Nov 30th) now exceed 10 inches across most of North and Central Texas. In areas of extreme drought (D3), less than half of the normal precipitation has fallen since Easter.

(see data)

Radar data estimates (see images below) for just the last 60 days (ending 12/5/2012) show most of the region with 4 to 8 inch deficits, and even isolated 8 to 12 inch areas. The 60 day percent of normal precipitation radar estimates indicate most of the region received only 5-10% of normal rainfall, with some areas across the southwest from 0-5%.


60 Day Departure from Normal Precip

60 Day Percent of Normal Precip

How are the lake levels?

Statewide reservoir capacity has fallen over 12 percent in the last 6 months. Despite the decline to 64.3 percent, the level remains above the 58.4 percent at this time a year ago (as of December 2nd).

Although North and Central Texas lakes are generally healthier than much of the rest of the state, inadequate rainfall during October and November has continued a steady decline.

RIVER BASIN STORAGE (Dec 2)

                  PERCENT OF
                 CONSERVATION

  LOWER RED          82.6
  SULPHUR            71.4
  UPPER SABINE       82.3
  NECHES             82.9
  UPPER TRINITY      77.3
  BRAZOS             70.6

Today's lake levels are available here.


Lake Levels as of Dec 3rd, 2012

What is the outlook for this winter?

Overall, temperatures are expected to be warmer than normal. There is no strong precipitation signal.
What happened to El Niño? Wasn't this going to be a wet winter?
El Niño conditions developed in the equatorial Pacific last summer but quickly faded. It now appears that ENSO neutral conditions (neither El Niño nor La Niña) will prevail throughout the winter and into the spring of 2013. For more information about the El Niño Southern Oscillation (ENSO), visit our El Niño/La Niña Information page.
What does "ENSO neutral" mean for North and Central Texas?
Precipitation is often below normal during ENSO neutral winters. Historically, temperatures have generally been cooler than normal during ENSO neutral winters. But with a trend toward warmer winters and ongoing drought conditions, this winter is expected to be warmer than normal overall. However, severe arctic outbreaks are more common during ENSO neutral winters.
What about the fire danger this winter?
The dry autumn plunged warm season vegetation into early dormancy, and cold season grasses have failed to emerge. Without adequate precipitation this winter, the threat of wildfires will persist, particularly on days with strong winds and low humidity.
How long will the drought last?
Springtime rainfall is also typically reduced during ENSO neutral conditions. As a result, the drought is likely to continue well into 2013.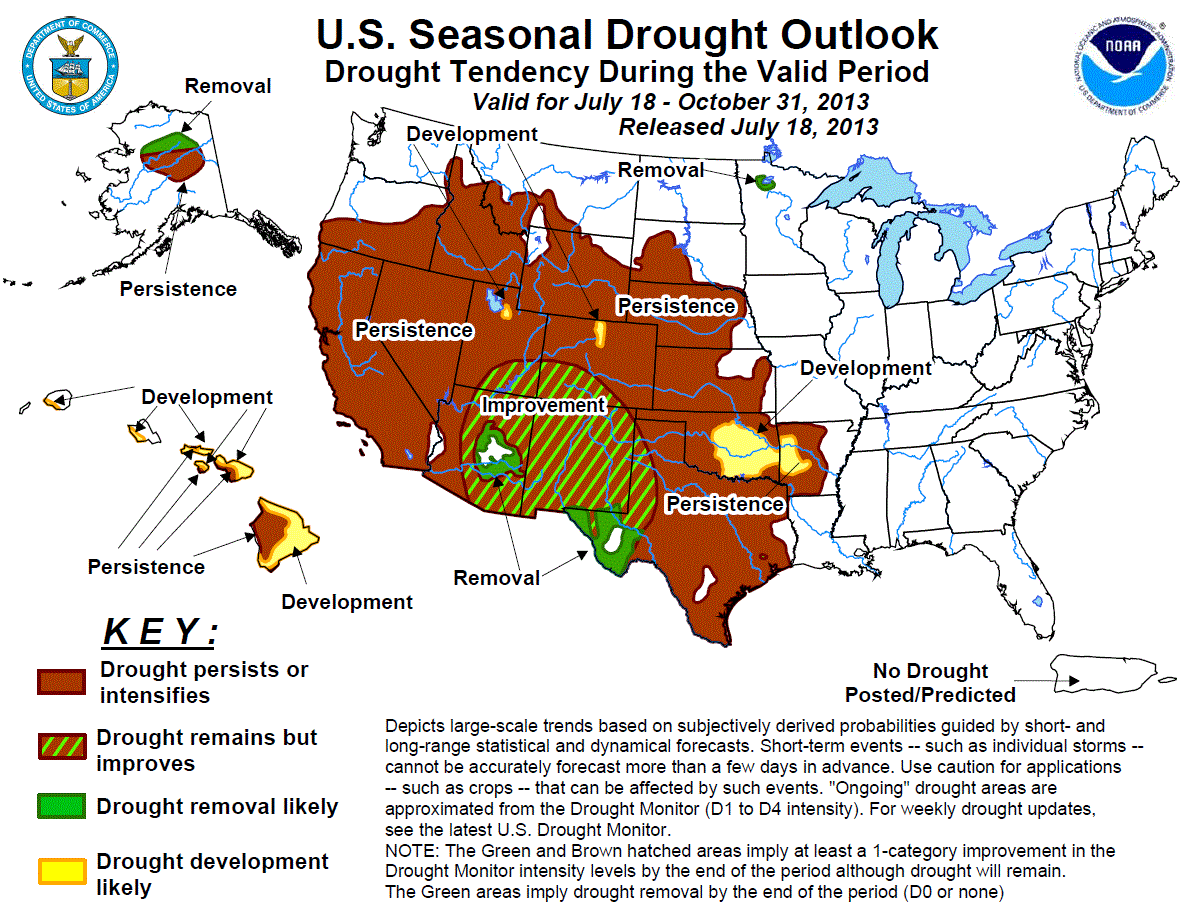 Precipitation Deficits From April 1st, 2012 through November 30th, 2012
AIRPORT SITES        NOVEMBER 2012         APRIL-NOVEMBER 2012
                    TOTAL  DEPARTURE      TOTAL  DEPARTURE  PCT

DFW AIRPORT          0.05    -2.66        15.51    -9.80     61
WACO                  T      -2.82        16.16    -7.88     67

DALLAS LOVE FIELD    0.01    -2.87        14.36   -12.33     54
FTW MEACHAM          0.03    -2.70        16.09    -9.68     62
DALLAS EXECUTIVE     0.02    -2.96        17.04   -11.58     60
FTW ALLIANCE         0.01    -2.52        13.67   -13.51     50
ARLINGTON            0.01    -2.58        15.71   -11.45     58

DENTON               0.06    -2.83        10.92   -16.56     40
MCKINNEY              T      -3.09        13.50   -14.33     49
TERRELL              0.06    -3.27        15.35   -12.46     55
CORSICANA             T      -3.87        16.91   -10.02     63
MINERAL WELLS        0.02    -2.14        14.95    -8.48     64


COOPERATIVE SITES    NOVEMBER 2012         APRIL-NOVEMBER 2012
                    TOTAL  DEPARTURE      TOTAL  DEPARTURE  PCT

ALVARADO             0.00    -2.96        13.34   -12.45     52
ALVORD               0.21    -2.10         9.22   -18.17     34
AQUILLA              0.01    -2.74        16.91    -8.15     67
ARLINGTON            0.05    -2.61        17.35   -10.60     62
ATHENS               0.37    -3.37        19.05    -9.02     68

BARDWELL             0.63    -2.62        20.31    -5.94     77
BENBROOK             0.00    -2.66        15.93    -9.57     62
BONHAM               0.02    -3.35        19.74   -12.16     62
BONITA               0.50    -1.93        17.44   -10.51     62
BOWIE                0.22    -1.99        17.12    -8.90     66

BRECKENRIDGE         0.02    -1.54        14.77    -7.73     66
BRIDGEPORT           0.04    -2.16        15.64    -9.98     61
BURLESON             0.00    -2.58        12.40   -13.72     47
CENTERVILLE          0.33    -3.47        22.32    -5.89     79
CLEBURNE              T      -2.80        13.97   -12.59     53

COMANCHE             0.00    -1.93        15.57    -7.84     67
COOPER               0.65    -3.70        20.28    -9.43     68
CORSICANA            0.12    -3.18        21.49    -4.90     81
CRANFILLS GAP        0.00    -2.34        10.78   -13.33     45
CRAWFORD             0.02    -3.03        14.78   -10.50     58

COOPERATIVE SITES    NOVEMBER 2012         APRIL-NOVEMBER 2012
                    TOTAL  DEPARTURE      TOTAL  DEPARTURE  PCT

CRESSON              0.05    -2.72        13.73   -11.45     55
DECATUR              0.13    -2.73        12.79   -16.43     44
DENTON               0.00    -2.90        12.21   -15.22     45
FERRIS               1.25    -1.84        18.21    -8.25     69
FORT WORTH NWS       0.04    -2.70        12.80   -14.17     47

FRISCO               0.05    -3.16        16.42   -12.53     57
GAINESVILLE          0.12    -2.86        20.72   -10.79     66
GOLDTHWAITE           T      -2.05        10.35   -12.31     46
GORDON               0.02    -2.28        15.89   -10.31     61
GRAHAM               0.06    -1.83        19.09    -4.68     80

GRAPEVINE            0.04    -2.90        16.07   -10.46     61
GREENVILLE           0.08    -3.93        20.04   -10.62     65
HAMILTON             0.00    -2.48        15.10    -7.05     68
HILLSBORO            0.04    -2.80        17.19    -8.56     67
JOE POOL LAKE        0.00    -3.31        13.29   -15.85     46

JUSTIN               0.05    -2.87        16.75   -11.44     59
LAKE TAWAKONI        1.85    -2.40        19.66    -9.28     68
LAVON DAM            0.03    -3.52        20.12    -8.10     71
LEWISVILLE DAM       0.00    -2.71        12.33   -14.83     45
MAYPEARL             0.34    -2.55        16.46    -9.62     63

COOPERATIVE SITES    NOVEMBER 2012         APRIL-NOVEMBER 2012
                    TOTAL  DEPARTURE      TOTAL  DEPARTURE  PCT

MIDLOTHIAN           0.14    -3.05        15.83   -13.31     54
MORGAN               0.02    -2.78        13.44   -12.15     53
MUENSTER             0.40    -2.11        19.59    -7.80     72
NAVARRO MILLS        0.00    -3.11        16.43   -10.15     62
PARIS                0.36    -4.32        18.26   -14.40     56

PROCTOR DAM          0.00    -2.13        11.32   -13.13     46
RAINBOW              0.05    -2.13        16.75    -6.54     72
RICHARDSON           0.00    -3.28        15.73   -13.48     54
ROANOKE              0.00    -3.22        17.11   -11.74     59
ROCKDALE             0.32    -2.91        13.51   -10.96     55

ROSSER               0.12    -3.28        15.97   -10.94     59
SHERMAN              0.22    -3.48        21.15    -9.98     68
STEPHENVILLE         0.00    -2.09        12.36   -10.72     54
STILLHOUSE HOLLOW    0.15    -2.79        15.89   -10.23     61
SULPHUR SPRINGS      0.48    -4.06        14.69   -17.03     46

TERRELL              0.20    -3.66        19.15   -10.19     65
THORNTON             0.18    -3.17        19.68    -6.57     75
WACO DAM             0.00    -3.03        16.77    -8.19     67
WEATHERFORD          0.03    -2.92        14.30   -11.65     55
 WHITNEY DAM          0.20    -2.55        16.99    -8.37     67