El Niño/La Niña Information
---
ENSO neutral conditions are still in place, but there is now a greater than 50% chance
of El Niño conditions developing late this year. An El Niño Watch has been issued.
This monthly summary is prepared by the experts at
the Climate Prediction Center (CPC).
---
All About ENSO
An Introduction to the El Niño/Southern Oscillation
The above link provides a basic overview of ENSO (El Niño/Southern Oscillation). Various links to other summaries and tutorials are also provided.
An Explanation of ENSO Indices
Descriptions of various ENSO indices are accompanied by an explanation of how the indices are used to detect/declare an El Niño or La Niña event.
El Niño and La Niña primarily affect the weather during the cold season. What effects does the ENSO phase have on North Texas? Click the Teleconnections link to find out!
---
Current Data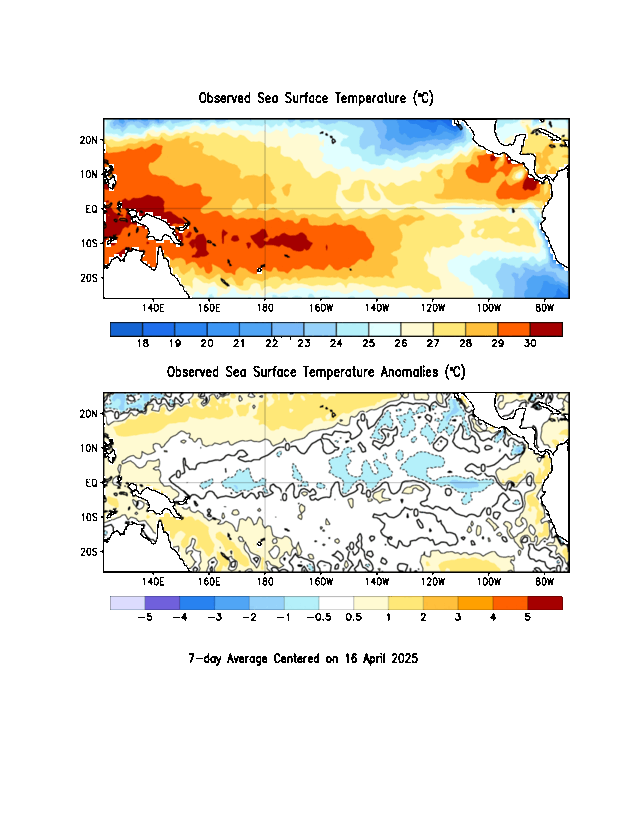 El Niño Observations (from NOAA)
Today's El Niño/La Niña Information (from PMEL-TAO)
Latest El Niño Data (from PMEL-TAO)
Current State of the Tropical Pacific (from CDC)
---
Forecasts
CPC's El Niño Diagnostic Discussion
CFS Model Forecasts (from CPC)
Forecasts from the Tropical Atmosphere Ocean Project (TAO)
Climate Diagnostics Center (CDC) - El Niño Forecasts
CDC Model Forecasts (technical)
Summary of ENSO Model Forecasts (from IRI)
---
Quick Links
NOAA El Niño Theme Page (PMEL-TAO)
Climate Prediction Center (CPC) - El Niño/La Niña Home
CPC's Weekly ENSO Update (available in pdf or ppt)
Climate Diagnostics Center (CDC) - ENSO Information
International Research Institute for Climate and Society (IRI)