Drought Information
---
Current Drought Conditions
---
Fire Danger
Even if there is no formal burn ban in effect for your area, it is still important to be vigilant about fire usage. Avoid open flames near dry vegetation, and assure all coals and embers are fully extinguished.
The Keetch-Byram Drought Index is a drought statistic specifically designed to assess fire danger.
---
Water Restrictions
After nearly 5 years of significant water restrictions, the North Texas Municipal Water District (NTMWD) began allowing twice-per-week watering on May 1. Sprinklers and other irrigation systems are still be prohibited between 10 am and 6 pm (April 1 to October 31). The NTMWD serves 1.6 million customers east and northeast of the city of Dallas.

In April 2014, the Fort Worth City Council made permanent its twice-per-week limit on landscape watering. Only hand watering is allowed between 10 am and 6 pm. Arlington, also within the Tarrant Regional Water District (TRWD) service area, is still requesting that residents adhere to a twice-per-week watering schedule, but the formal restrictions have been lifted. Dallas has made permanent its twice-per-week limit, but the restriction on daytime watering is limited to the warm season (April 1 to October 31). Since water restrictions vary considerably throughout the Metroplex, residents should keep informed with the current guidelines from their municipality or water utility provider.
Voluntary conservation continues for both Waco and Temple/Killeen. However, water restrictions remain in effect for some communities within McLennan County and Bell County.
The Texas Commission on Environmental Quality (TCEQ) maintains a list of water restrictions across the state.
---
Outlook
With El Niño conditions expected to persist throughout the upcoming cold season, projections for above normal precipitation will prevail into 2016.
Precipitation Outlooks for the Cold Season
These outlooks present the likelihood of receiving a precipitation total that differs significantly from normal. Green areas denote parts of the country with an increased chance of being in the wettest tercile, or the wettest third of historical data. Similarly, brown areas denote parts of the country that are projected to have an elevated chance of being in the driest tercile. Where neither color is shaded, there is no strong signal to determine an accentuated chance of being in either the driest or wettest tercile. This does not mean that near normal precipitation is expected, but simply that the period is just as likely to be in the wettest tercile as it is to be in the driest tercile.
Based on the likelihood of enhanced precipitation totals this fall, the U.S. Seasonal Drought Outlook projects some improvement of the drought conditions within North and Central Texas.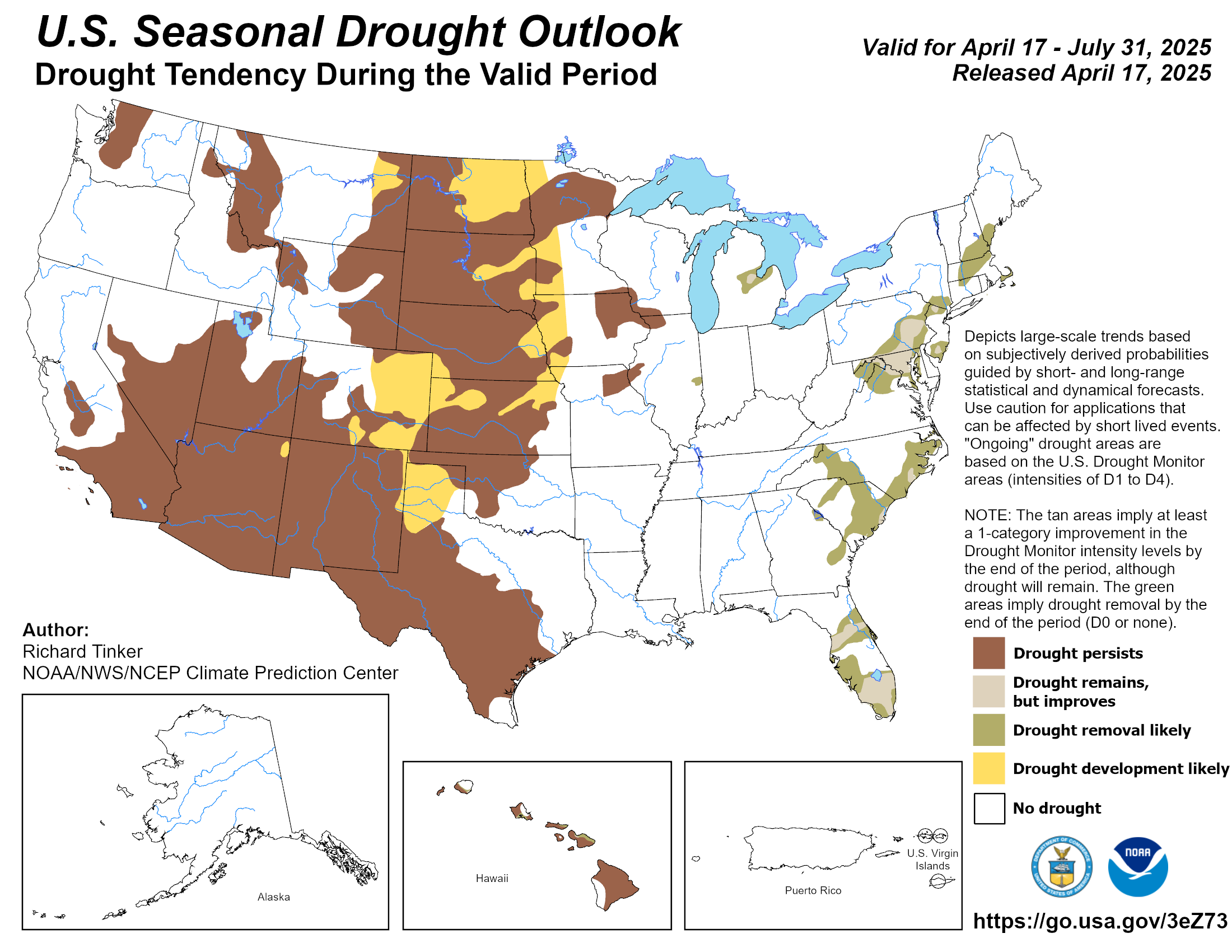 ---
Drought Links
National Integrated Drought Information System
National Drought Mitigation Center