Drought Information
---
Meteorological spring gets off to a wet start, but more rainfall is needed.
Numerous precipitation events during February and March have added water to many area reservoirs. As a result, much of the Dallas/Fort Worth Metroplex saw a one-category improvement though extreme drought (D3) remains. Exceptional drought (D4) plagues the Possum Kingdom area where it has been in place since June 2014.
The U.S. Seasonal Drought Outlook suggests additonal improvement could occur in portions of North and Central Texas if normal spring rainfall occurs. Although the wet start to the year will help the region's agriculture, the extensive hydrologic drought is unlikely to end before the summer arrives.
---
Current Drought Conditions
---
Fire Danger
Warm season vegetation is emerging from dormancy. These perennials, particularly grasses, can effectively hold moisture long after a rain event. When green, this vegetation limits fire initiation and spread. However, the spring months can still have days with low humidity and strong winds. If these days occur after a prolonged dry spell, there can be a risk of wildfires, especially where extreme and exceptional drought conditions persist.
Even if a formal ban is not in effect for your area, it is still important to be vigilant about fire usage. Avoid open flames near dry vegetation, and assure all coals and embers are fully extinguished.
The Keetch-Byram Drought Index is a drought statistic specifically designed to assess fire danger.
---
Agricultural Impacts
Texas Crop Condition and Progress Report
audio clip of report
---
Lake Levels
During February and March, there have been numerous days with precipitation. This has allowed soil moisture to remain high, resulting in runoff into the creeks and streams that feed the major river/reservoir systems. Although many lakes have seen an influx of water, much more rainfall is needed to reverse several years of drought.
As the warm season begins, evaporation and water usage will steadily rise. Even if adequate precipitation gives the growing season a healthy start, the multi-year hydrologic drought is likely to persist throughout the upcoming summer.
For current lake level information (including pool height, departure from conservation pool height, and percent of conservation volume), visit Water Data for Texas.
---
Water Restrictions
Through at least the end of March, the North Texas Municipal Water District (NTMWD) will remain in Stage 3 water restrictions, which limits landscape watering to once every 2 weeks. Sprinklers and other irrigation systems are prohibited between 10 am and 6 pm. The NTMWD serves 1.6 million customers east and northeast of the city of Dallas.

In April 2014, the Fort Worth City Council made permanent its twice-per-week limit on landscape watering. Only hand watering is allowed between 10 am and 6 pm. Arlington, also within the Tarrant Regional Water District (TRWD) service area, has similar restrictions but is not ready to make them permanent. The TRWD is considering Stage 2 water restrictions, which would limit landscape watering to once a week. Dallas has made permanent its twice-per-week limit, but the restriction on daytime watering does not begin until April 1. Since water restrictions vary considerably throughout the Metroplex, residents should keep informed with the current guidelines from their municipality or water utility provider.
Voluntary conservation continues for both Waco and Temple/Killeen. However, water restrictions remain in effect for some communities within McLennan County and Bell County.
The Brazos River Authority (BRA) is asking customers within the Upper Brazos Basin, as well as areas as far downstream as Whitney, to reduce usage by 10%. The BRA's lakes within the Upper Brazos Basin (Possum Kingdom, Granbury, and Whitney) are all in a Stage 2 drought warning. Proctor Lake, which has fallen below 30% capacity, is in Stage 4 pro-rata curtailment.

The Texas Commission on Environmental Quality (TCEQ) maintains a list of water restrictions across the state.
---
Outlooks
Unfortunately for our drought-stricken region, the best chances for above normal rainfall during the spring are outside of North and Central Texas.
Precipitation Outlook for April-May-June
Summer Precipitation Outlooks
These outlooks present the likelihood of receiving a precipitation total that differs significantly from normal. Green areas denote parts of the country with an increased chance of being in the wettest tercile, or the wettest third of historical data. Similarly, brown areas denote parts of the country that are projected to have an elevated chance of being in the driest tercile. Where neither color is shaded, there is no strong signal to determine an accentuated chance of being in either the driest or wettest tercile. This does not mean that near normal precipitation is expected, but simply that the period is just as likely to be in the wettest tercile as it is to be in the driest tercile.
Although the U.S. Seasonal Drought Outlook projects some potential improvement of the ongoing drought conditions within North and Central Texas, normal spring rainfall will be needed to accomplish this. Even with some improvement, the hydrologic drought is expected to persist into the upcoming summer.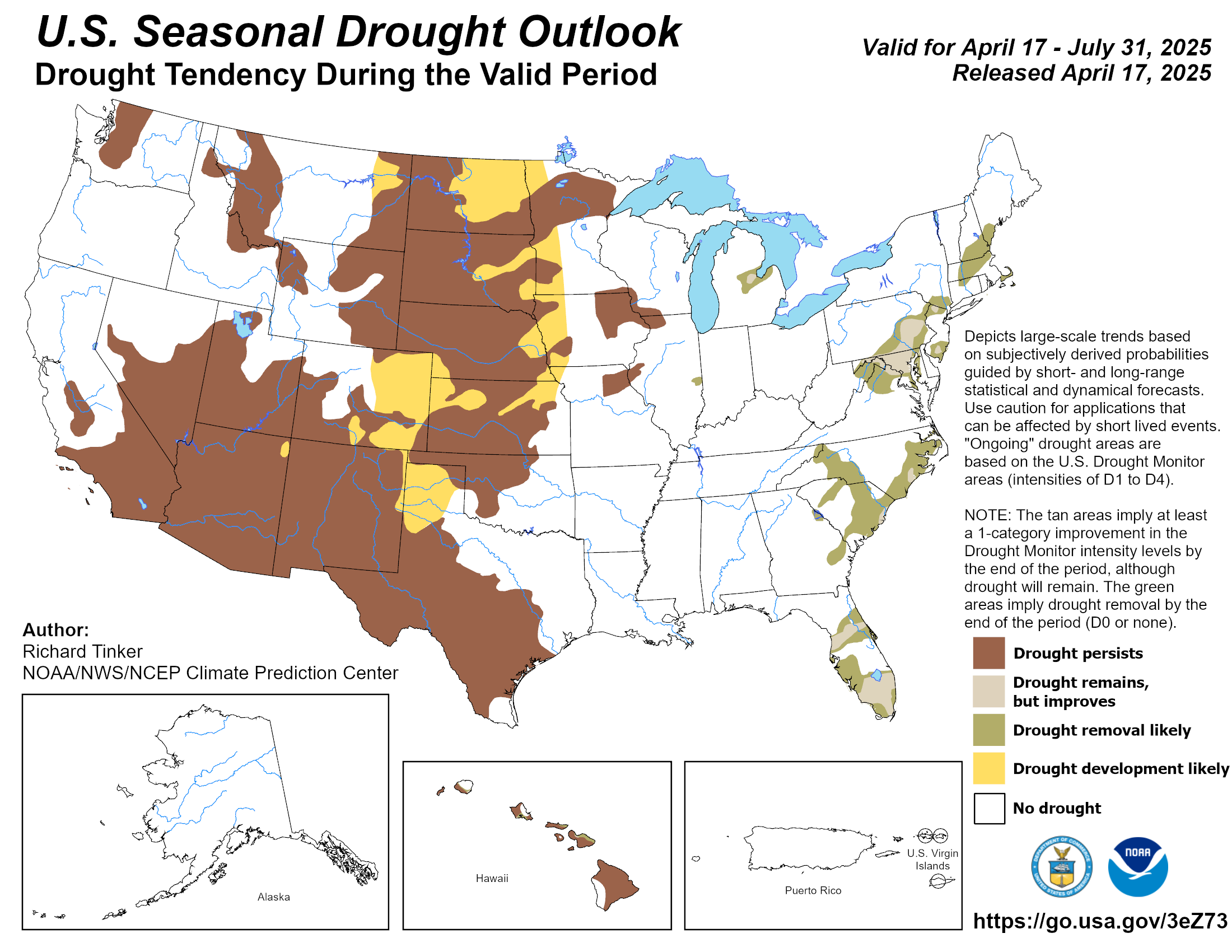 ---
Drought Links
National Integrated Drought Information System
National Drought Mitigation Center