Autumn 2011 Preview

More Dry, Warm Weather to Come?
Looking Likely; November–December Potentially Like 2010
---
Drought, Wildfire Danger to Continue, in General

October began with some hopeful rains in the Upper Valley, followed by refreshingly pleasant evenings and nice mornings through the 5th. Even daytime temperatures were reasonable and seasonable, falling to the upper 80s to lower 90s, just a shade above what they should have been. For the remainder of the month, the news is good for persons who desire summer–like conditions to hang on a bit longer, minus the oppressive heat of August and September. Mild water and warm air temperatures will make for decent beach weather, though rip and alongshore currents will be an issue as stronger pressure systems dip into the southern third of the U.S. The news is not so good for drought and wildfire growth relief. While there should be some rain in all areas, particularly toward the coast, totals should once again be below average, as persistent high pressure – while weaker than the "La Canícula" pattern through much of August and September, will tend to stretch and contract from the southwest U.S. into the southeast U.S., deflecting significant rain producing systems north of the region, and repeatedly surging dry airmasses into South Texas (below).
Forecast jet stream pattern across the U.S., October 2012. Image is forecast for October 12th. Light pink "L" indicate expected pattern of upper level low pressure systems; Blue "H" indicate oscillation of upper level ridge between Texas and the southwest U.S. to/through the southeast U.S. Brown dashed curved arrow indicates main flow pattern of the jet, well north of the Valley.
Wind shear analysis, October 5th, 2011. Yellow indicates ≥40 knots; red indicates ≥60 knots. Strong shear has been prevalent across these regions for several weeks; this pattern is expected to continue, effectively ending the Lower Texas Gulf coast hurricane season.

There were moments of concern during the 2011 Hurricane Season in the Valley: Tropical Storm Arlene (June 30th), Don, Lee, and Nate. Unfortunately, the only soaking rain seen in the Lower Valley was from the outer arms of Arlene, which dropped 2 to 3 inches in Cameron County. Don dried up before reaching Hidalgo County, and Lee and Nate reinforced very dry air over the region in a month when average rainfall peaks. Arlene and Nate were blocked from moving toward the Valley by the persistent high pressure ridge. Lee was blocked from moving west, or southwest, by northwesterly flow aloft between an eastern U.S. trough and the Canícula ridge across the southwest U.S./northern Mexico. Wind shear and/or dry air were inhibitors to each storm. By late September, shear over the Gulf had increased further; in early October (above), pockets of 60 knot northwesterly shear were present, with up to 80 knots of shear east of the U.S. east coast. While Gulf water temperatures will remain sufficiently warm for a few more weeks (assuming no strong cold fronts), data suggest persistent strong shear and bouts of dry air through the month – hurricane killers. By November, westerly flow aloft and the arrival of stronger cold fronts will close the door shut.

A repeat of November 2010 through January 2011? While no two seasons, or years, are alike, the expected return of a moderate La Niña (below) combined with a propensity toward a negative phase of the North Atlantic Oscillation could result in generally warm, dry, and frequently breezy days to close out 2010. Wide temperature swings may occur after Thanksgiving, but the tendency will "lean" toward warmer than average periods with colder days fleeting, at least through the end of December. We'll have a complete forecast for the end of autumn and early winter by early November. Stay tuned! Check our drought page and Climate Prediction Center for continuous updates.
Drought. Unless an October front becomes stationary and dumps much needed, widespread rain across the Valley, Extreme to Exceptional Drought will prevail, or even intensify, across the Rio Grande Valley and Deep South Texas.



Wildfire Weather. The good news? Burned or cut grasses last spring and summer remained dormant; grass and some brush fuel loading is substantially lower in October 2011 than October 2010. The bad news? There's still plenty of available brush and long term fuel (mesquite, etc.) ready to burn. As drier air and breezier conditions arrive this autumn, wildfire growth danger will continue and remain a dangerous hazard should any fires start. In early October, burn bans were in effect for virtually all of Texas. Contact local officials for details in your area.



Water Issues? Evaporation rates will continue to decrease through autumn and winter as sun angle fades and temperatures cool down. That's the good news. The bad news is that, unlike this time in 2010, when large water supplying reservoirs such as Amistad International and Falcon International were flush with water well above conservation, levels in early October had dropped to near 45 percent at Falcon, and below 90 percent at Amistad. A severe spring 2012 drought would surely bring mandatory water restrictions to the Valley. While too early to speculate, this is something to keep in the back of the minds of Valley residents and decision makers.

Voluntary water conservation is underway in a number of communities in the Rio Grande Valley; check with your county or city for details.



Severe Weather? Winds increasing above the earth's surface will lead to a return of breezy weather to the Valley as we move later into autumn. Strong winds in excess of 50 mph are possible behind mid and late Autumn dry fronts, and can cause minor damage as happened on Christmas Eve, 2009. Scattered thunderstorms along slightly wetter fronts can also transport damaging wind gusts to the surface. Opportunity for such events will be limited, but the potential is always there.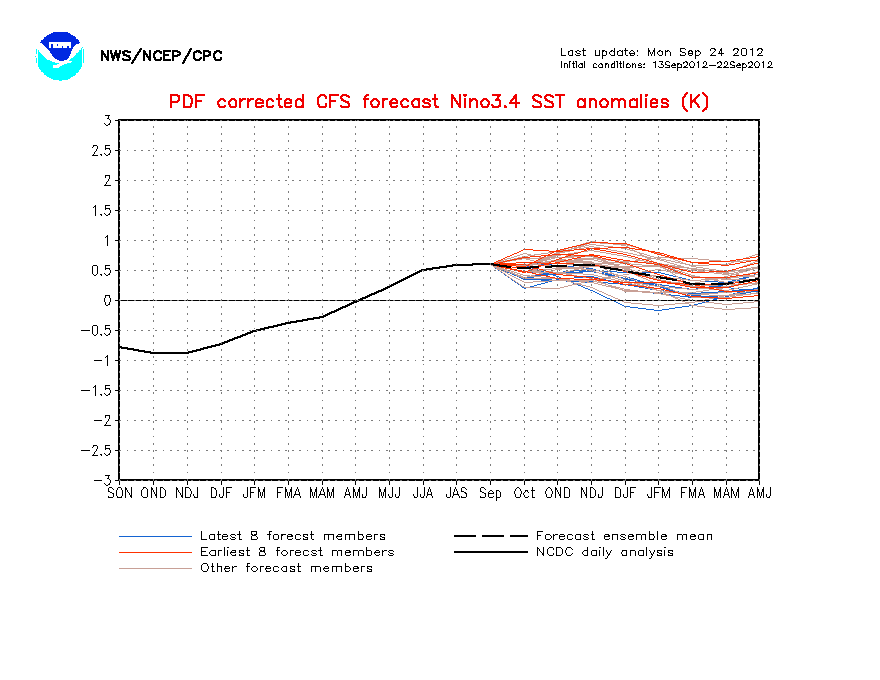 Climate Forecast System prediction for ENSO, in Niño Regions 3+4. Values below -0.5 indicate a developing La Niña; values between -1.0 and -1.9 indicate a moderate La Niña, which has been the clustered forecast for the upcoming late autumn 2011 and winter of 2012.