As La Niña continues it's steady intensification into the moderate range as autumn slides toward winter, the expected weather for Texas, and particularly South Texas and the Rio Grande Valley, will continue the trend started more than a year ago: Predominantly warm and rain–free, with increasing south to southeasterly winds punctuated by a few cold fronts. These fronts, driven by quick moving energy waves slicing through the central and south–central plains, will have little time or ability to draw in tropical moisture, and limited rainfall will be the result as each one passes. This was the trend as October moved into early November; the first significant front dropped temperatures into the refreshing 60s and lower 70s on the 28th, and a similar front would sweep the Valley by November 3rd.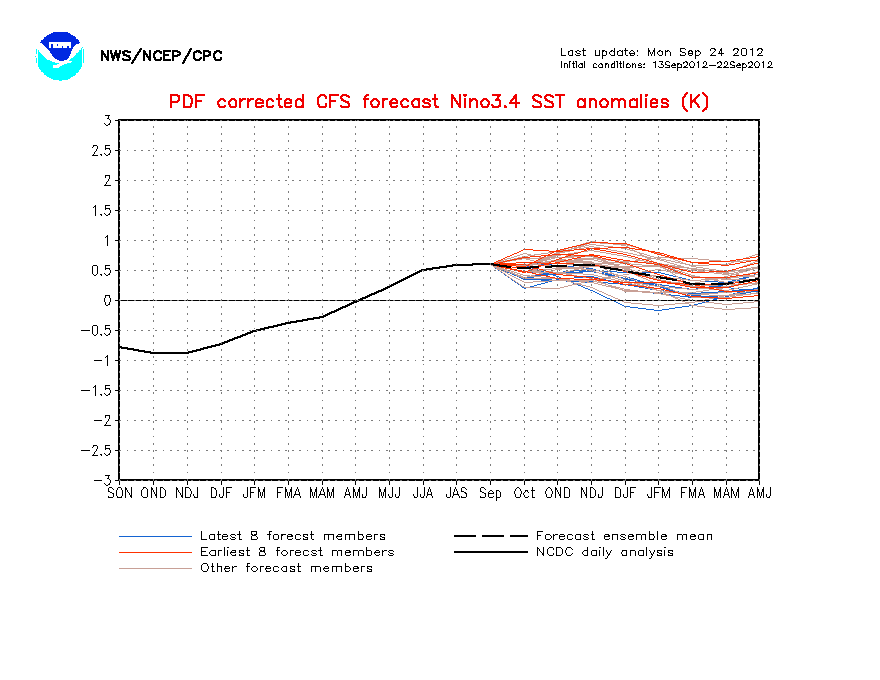 Climate Forecast System prediction for ENSO, in Niño Regions 3+4 (east central Pacific Ocean west of Peru). Values below -0.5 indicate a developing La Niña; values between -1.0 and -1.9 indicate a moderate La Niña, which has been the clustered forecast for the upcoming late autumn 2011 and winter of 2012.

November will pick up where October left off: Warm to very warm days and mild to muggy nights punctuated by a few fronts with limited rainfall along them, primarily light showers after the front passes with an outside chance for a line of showers and storms should one of the energy waves dive far enough south. The warm and rather humid days will feature increasing south to southeast winds, reaching 30 mph often and perhaps touching 40 mph or higher in a few cases (above graphic). Thanksgiving Day 2010 pushed toward 90°F in most areas and was followed by a "Black Friday" with sharply colder readings (40s to lower 50s) through noon. A similar situation would not be a surprise in 2011. December will likely continue the trend, with above average temperatures and gusty southerly winds common. Cold fronts will begin bringing sharper temperature falls beginning around mid month, with the potential for at least one full day or low clouds, drizzle, and temperatures in the upper 30s to lower 40s. As the Christmas and New Year's holidays approach, there are equal chances for a minor freeze or a pre frontal heat spike. In 2010, a marginal freeze brought temperatures into the upper 20s to lower 30s the morning after Christmas, followed by a toasty New Year's Eve day (December 31) with record to near record temperatures at or above 90.

In the winters of 2010 and 2011, the Arctic Oscillation (AO) and its related offspring, the North Atlantic Oscillation (NAO) fell sharply negative. When combined with 2010's El Niño, the pattern helped develop several Texas Gulf lows which provided ample precipitation to the Valley in December (2009) and February, and brought periodic cooling to the area. Several of these developing cyclones would move through the northern Gulf and eventually turn into significant winter storms along the eastern U.S. seaboard. When combined with 2011's La Niña, the pattern helped bring periodic arctic–sourced high pressure ridges into the eastern half of North America, particularly from mid January through mid February. This helped increase wintry precipitation totals in the east, and brought chilling fronts into Texas through mid February. One front drew very cold air into the Rio Grande Valley to start February, leading to a significant freeze and ice storm February 2nd through 5th. While no two seasons are exactly alike, the potential exists for some winter weather between mid December and mid February. Some studies show a relationship between loss of arctic sea ice and an increased potential for a negative phase AO/NAO. Will this occur again later this autumn and winter? Stay tuned.
October 2011: Still Warm, Still Dry
Weak disturbances and minor fronts triggered pockets of needed rain early in the month. Welcome rains estimated around 2 inches opened October in Starr County along a convergence zone behind a weak front; a round of locally heavy rainfall on October 9th dumped nearly 4 inches (3.74) on the King Ranch, with more than 2 inches in a few locations of rural northern Willacy County and on the Laguna Atascosa National Wildife Refuge in Cameron County. Thereafter, hot rain free days and comfortable overnights were the rule and extended summer to nearly the end of the month, when the first significant cold front arrived early on the 28th. The extended summer weather was perfect for the myriad activities on South Padre Island and elsewhere in the Valley, though the arrival of a red tide made life difficult for beach goers. A relatively cool day and night on the 28th was followed by near perfect weather, around or just below seasonal averages (80 to 85 daytime, upper 50s to lower 60s at dawn), for the Halloween Weekend into Halloween Night (29th through 31st).

After a season of summer heat closed out by a near record hot and dry September, October's temperature and precipitation dropped closer to long term monthly averages. Some areas (McAllen, in particular) continued with top ten dry and hot conditions, while most others dropped back into the top third (dry) and top half (warm) from their persistent top ten positions from late spring through September. The combination of lowering long term rainfall averages in October compared with September, combined with the localized nature of early month thunderstorms, produced interesting results. While McAllen/Miller (0.25 – 6th, since 1961) and La Joya/Mission (Trace – 3rd, since 1910) missed the downpours, Rio Grande City (64th, since 1897) struck relative gold with 1.61 inches, most on October 1st.
Temperature averages showed a wide range of outcomes. A majority of locations landed in the top 20 warmest; however, two ended up in the top 20 coolest – Port Isabel, at 72.9°F (4th coolest, since 1928) and Falfurrias, at 70.9°F (10th coolest, since 1907). We suspect the number of clear and relatively calm lengthening nights over dry soil was the primary reason, as minimum temperatures were more than 7°F below long term averages in each location.
Full details can be found on our local climate page.
Drought monitor for Rio Grande Valley and Deep South Texas, October 25th, 2011. Red and Maroon depict Extreme to Exceptional Drought conditions.

As we move deeper into autumn and head for winter and eventually the spring of 2012, the following conditions and potential hazards can be expected:
Extreme (D3) to Exceptional (D4) Drought is likely through at least December.
Rapid wildfire growth potential will increase with the passage of most fronts as north winds increase and humidity tumbles within the 24 to 48 hours that follow...
...One sliver of good news compared with autumn 2010 is significantly less "fuel loading" due to very little new rangeland grass growth since last October, when the current dry spell began. The key word is sliver.
Burn bans continue across most of the Rio Grande Valley, and are likely to continue or be extended later this autumn. (This includes Willacy County).
Reservoir water levels are significantly lower now than a year ago. In October, 2010, the levels at Amistad and Falcon were above 100 percent, in part from the excessive rainfall from Hurricane Alex and more rain in September 2010 across the Rio Grande basin. As of November 1, 2011, levels were at 86% at Amistad, and 43% at Falcon.
Based on the overall warm and dry forecast, reservoir levels may fall a bit more through winter, though the rate of decrease should level off with lower evaporation rates.
A warm and dry spring (March - May 2012) would accelerate the evaporation rate, and ensure significant water restrictions for many communities in the Valley.
Continue to follow the latest forecasts through the remainder of autumn of 2011 and into the winter of 2012 at this website, or follow us on Facebook.