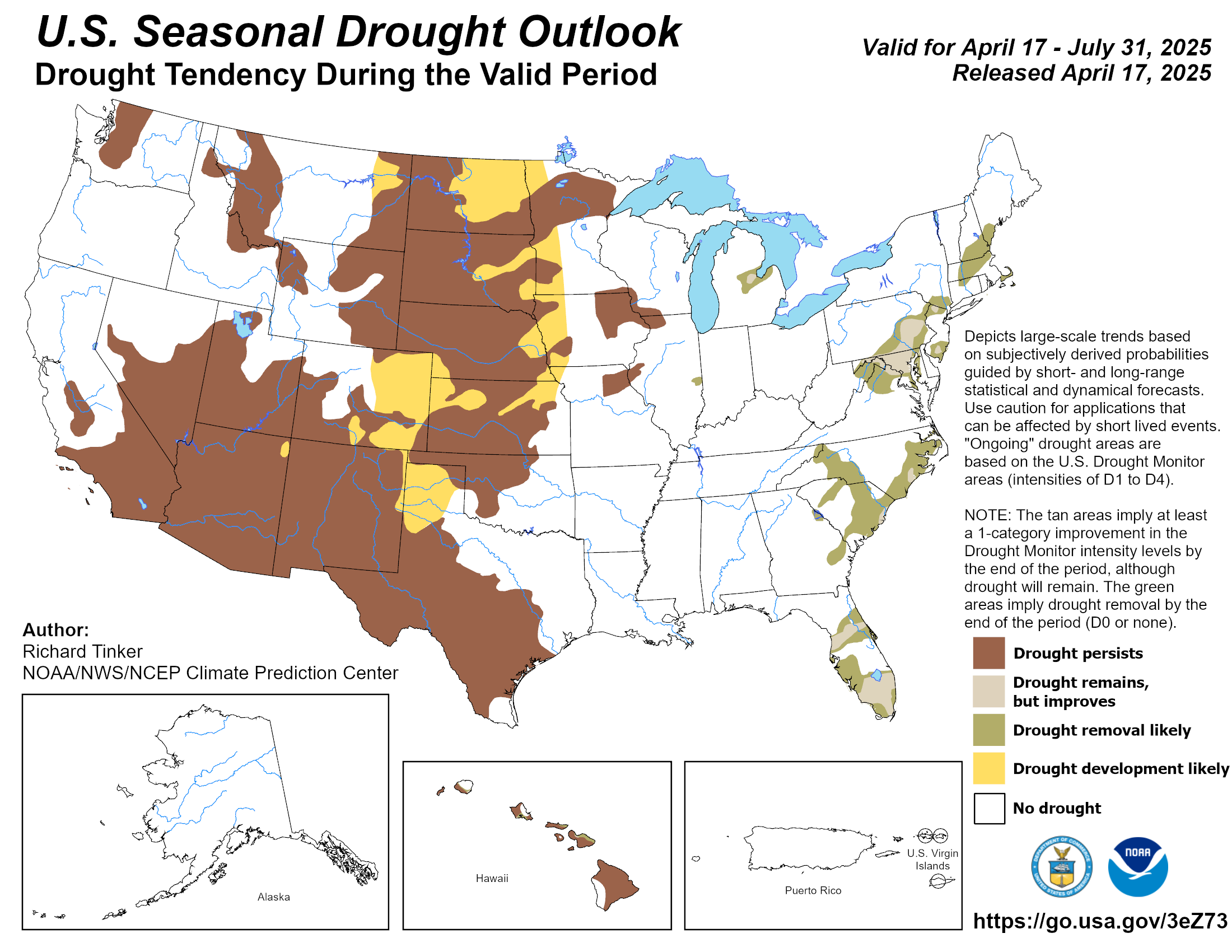 US Seasonal Drought Outlook from the Climate Prediction Center
(click map to enlarge)

The current U.S. Drought Monitor map depiction of drought for New Mexico can be found at:
http://droughtmonitor.unl.edu/DM_state.htm?NM,W
Other Hydrologic Information
Reservoir storage is well below capacity at all lakes across the state, although summer rains and epic September rain helped bring up storage levels some in most resevoirs. Water levels are lowest at Abiquiu, Cochiti, Caballo, Brantley, Elephant Butte, Conchas, Santa Rosa and Sumner Lakes. Average statewide reservoir storage is only 23 percent of capacity. You can use the link below to see the current percent of storage capacity at all the major New Mexico dams:
http://www.wcc.nrcs.usda.gov/cgibin/resv-graph.pl?state=NM
Areas affected by current and past large fires in 2011, 2012 and 2013 are closed. Please see the following link for a listing of the current closures and fire restrictions. Click on the small map of New Mexico, then Fire Alert link at the top right of the page.
http://publiclands.org/explore/index.php?plicstate=NM
Below is a map of real-time streamflow compared to historical streamflow for the current day of the year. Click on the image to take you to the USGS site.
New Mexico Water Watch from the USGS
(click map to enlarge image)
Special Hydrologic/Climate Features
1. For the 2013 Year, average statewide precipitation ranked as the 47th wettest (72nd driest) year on record. July and especially September helped erase major short term precipitation deficits. Meanwhile, average statewide temperatures ranked as the 44th warmest (75th coldest) on record.
Figures provided by the National Climatic Data Center
2. CPC forecasters continue to indicate neutral ENSO conditions into the Spring, then begin to trend toward weak El Nino conditions during the summer and fall. An El Nino watch has been issued, which means El nino conditions may develop within the next 6 months.

3. Below is an animation of the weekly U.S. Drought monitor for the past year (late Feb 2013 - late Feb 2014) across New Mexico. Note the worsening drought into early July, then improvement for most of July and August, and dramatic improvement in September, followed by a gradual worsening of the drought again.