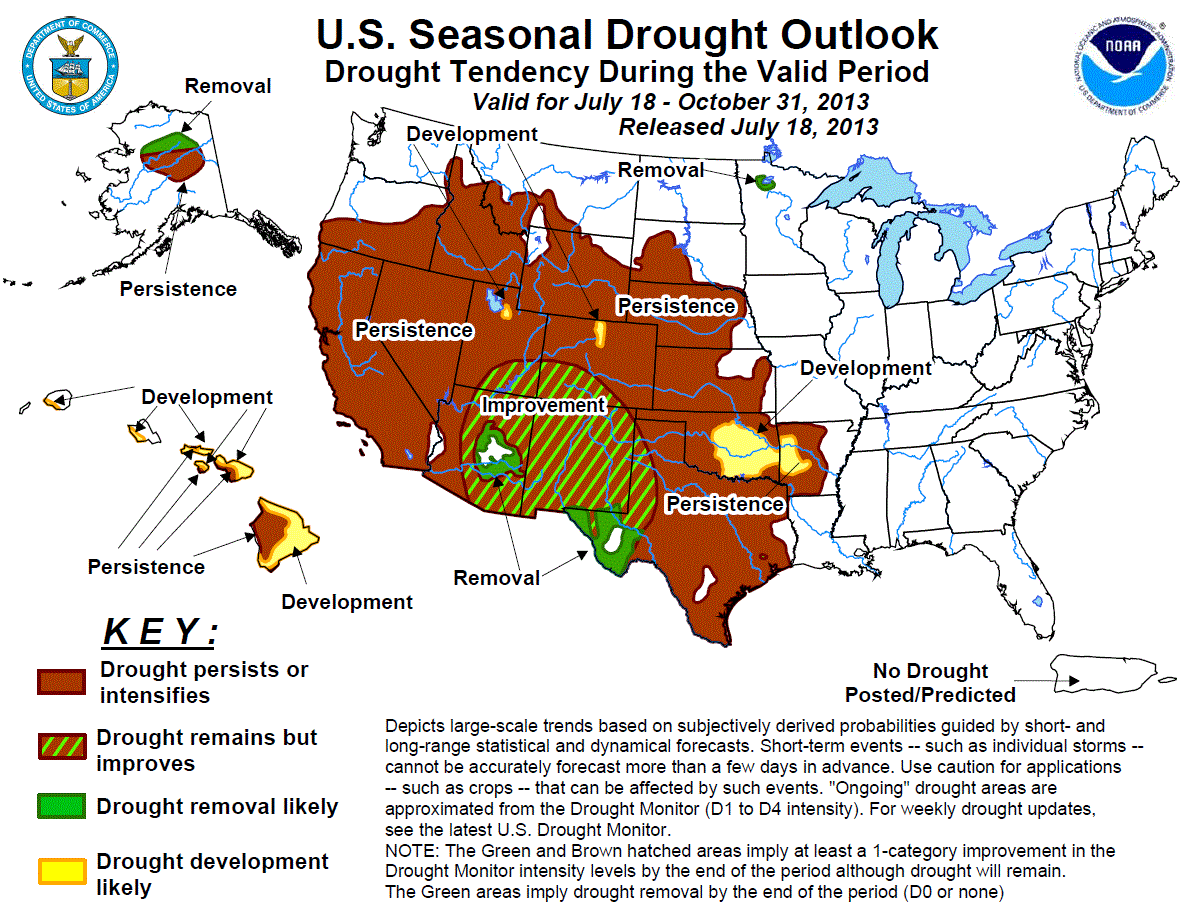 US Seasonal Drought Outlook from the Climate Prediction Center
(click map to enlarge)

The current U.S. Drought Monitor map depiction of drought for New Mexico can be found at:
http://droughtmonitor.unl.edu/DM_state.htm?NM,W
Other Hydrologic Information
Reservoir storage is well below normal at all lakes across the state. Water levels were particularily low at Abiquiu, Cochiti, Caballo, Brantley, Elephant Butte, Conchas, Santa Rosa and Sumner Lakes. All of these reservoirs were 15 percent or less of their storage capacity! Lake Avalon and Navajo reservoirs had the highest percent of storage at 45% and 55% respectively. You can use the link below to see the current percent of storage capacity at all the major New Mexico dams:
http://www.wcc.nrcs.usda.gov/cgibin/resv-graph.pl?state=NM
Areas affected by the Whitewater-Baldy Fire Complex and Little Bear Fire this year, and the Las Conchas fire in 2011 remain closed. Many national, state and tribal parks and monuments have declared stage one fire restrictions. Please see the following link for a listing of the current fire restrictions:
http://publiclands.org/firenews/?plicstate=NM
Below is a map of real-time streamflow compared to historical streamflow for the current day of the year. Click on the image to take you to the USGS site.
New Mexico Water Watch from the USGS
(click map to enlarge image)
Special Hydrologic/Climate Features
1. The past 12 months (May 2012 - April 2013) average statewide precipitation ranked as the driest year on record. The last 24 months (May 2013 - April 2013) was also the driest consecutive 24 months on record! Through the first seven months of the current (2013) water year, precipitation ranks as the 19th driest on record (not shown graphically).
2. The graph below shows the model predictions on expected ENSO conditions over the next year, in three month blocks (periods of time). We are still in ENSO-neutral conditions, and most models are favoring the continuation of ENSO-neutral conditions through the late spring, summer and even fall. Here is the link to the latest ENSO Dignostic discussion from the Climate Prediction Center:
http://www.cpc.ncep.noaa.gov/products/analysis_monitoring/enso_advisory/ensodisc.pdf
Figure provided by the International Research Institute (IRI) for Climate and Society